This Little Piggy is an English nursery rhyme first recorded in print in 1728. The song involves finger play, where the singer touches the toes of a toddler's or child foot while singing.
Like most nursery rhymes, the song has mysterious origins, with some suggesting it has a dark meaning. Does it, though?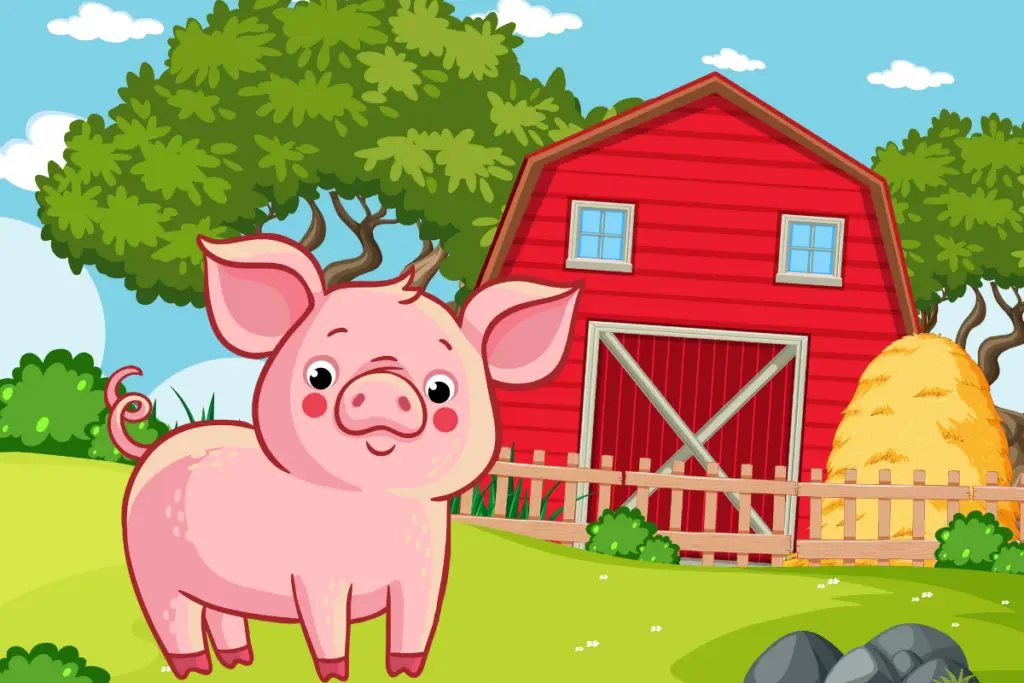 Let's look at that in this run-through all about this classic nursery rhyme.
LYRICS
Lyrics for This Little Piggy As Sung Today
This little piggy went to market,
This little piggy stayed at home,
This little piggy had roast beef,
This little piggy had none.
And this little piggy went…
"Wee wee wee" all the way home…
Full Original Lyrics for This Little Piggy
These lyrics are from Andrew Langs Nursery Rhyme Book first published in 1897. In the book the illustration for the rhyme is called The Five Pigs and may be where that title came from! Look for note [177] to see the illustration.
1. This pig went to market;
2. This pig stayed at home;
3. This pig had a bit of meat,
4. And this pig had none;
5. This pig said, "Wee, wee, wee!
I can't find my way home."
The following is from The Little Mother Goose by Jesse Willcox Smith with a first copyright from 1912. Go to note [7] to see an original image from the book!
This little pig went to market.
This little pig stayed home;
This little pig had roast meat.
This little pig had none.
This little pig went to the barn door
And cried week, week, for more.
The following lyrics are from a History of Nursery Rhymes by Percy Green printed in 1968. Go to note [146] to find it yourself
This little pig went to market,
This one stayed at home,
This one had a sugar-stick,
This one had none,
And this one cried out wee, wee, wee,
I'll tell my mother when I get home
THE HISTORY BEHIND THIS LITTLE PIGGY NURSERY RHYME
Who Wrote The Nursery Rhyme This Little Piggy?
It is unknown who wrote the rhyme. This Little Piggy also known as This Little Pig and The Five Little Pigs has been around for over two centuries, making it difficult to tell who the original creator was. Like other nursery rhymes, most are passed on generation to generation through oral retelling so it is hard to pinpoint where they came from.
Many websites will tell you that the first appearance of the rhyme was only the first line in a medley called 'The Nurses Song' in 1728. However, through my research I can't say I see the connection? See for yourself in the images gathered below.
What I did find however was the first line of the rhyme printed in The Famous Tommy Thumb's Little Story-Book as documented by the British Library!
It might then be said the rhyme or at least a portion of it was first documented in The Famous Tommy Thumb's Little Story-Book. The year the first edition of this came out can be argued as well, as there is evidence it was first advertised in the London Evening Post in 1744 and the British Library estimate that the book they have in their collection was published in that year.
But many say that these original 1744 versions did not survive!
We also know that a book of a similar title Tommy Thumb's song book: for all little masters and misses, to be sung to them / by their nurses, until they can sing themselves was published in 1788 by a man known to republish rare old English books exactly as he found them, Isaiah Thomas.
But the National Library of Australia attributes the author of this book as being Nurse Lovechild, with a letter from Nurse Lovechild within the book, so whether this was a copy of the original I am not sure. The most available version of The Famous Tommy Thumb's Little Story Book is a sequel printed by a Mary Cooper in the same year.
The earliest version of the full rhyme that I can link to therefore would be from Andrew Langs's Nursery Rhyme Book first published in 1897. Look for note [177] on the Gutenberg project website.
In 1922, Beatrix Potter of the Tales of Peter Rabbit fame included the rhyme in her illustrated book, Cecily Parsley's Nursery Rhymes. The four original watercolor illustrations of the song would later sell for 60,000 Sterling Pounds in 2012.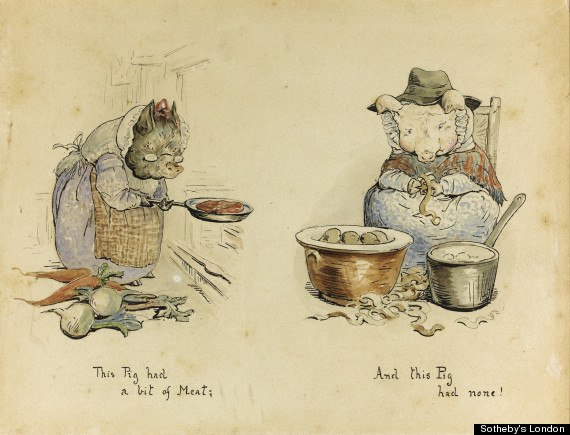 WHAT DO THE WORDS MEAN? DEFINITIONS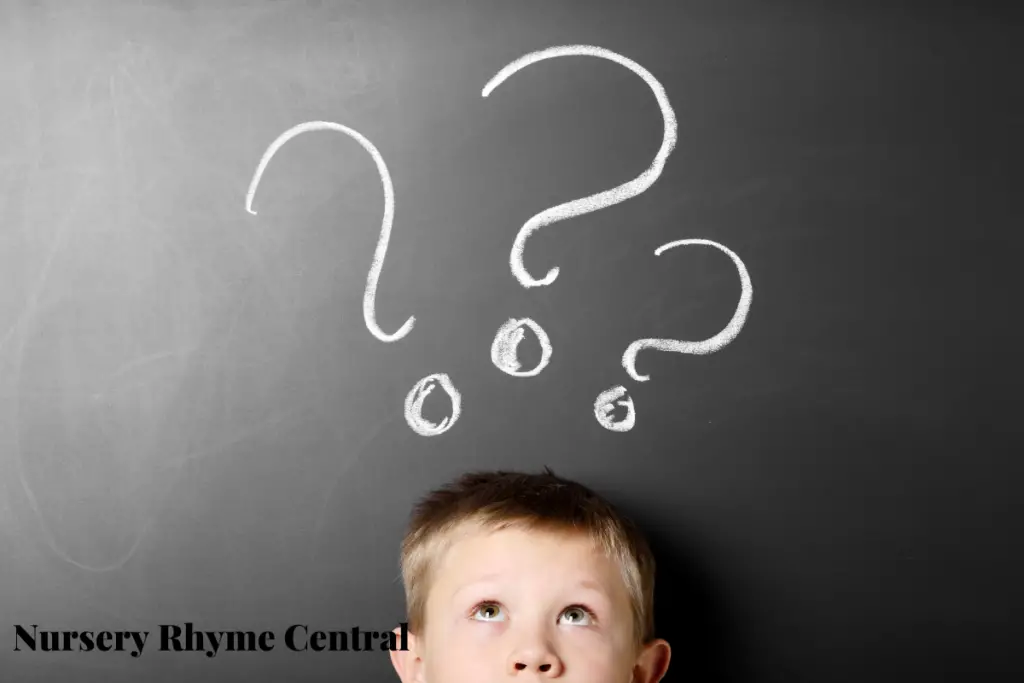 What Does the Nursery Rhyme This Little Piggy Mean?
The song talks of a little piggy engaging in different activities. Although the song seems purely innocent, some believe it refers to the pig's slaughter – when this pig goes to market?
However, you don't have to overthink this meaning when singing it, and frankly most people never even make that connection when singing it.
What Is a Piggy?
A piggy is usually a baby pig or a small pig. It can be an affectionate name for a pig and it can also be an adjective to refer to something that looks like a pig, such as our toes.
What Is Roast Beef?
A dish of roasted beef is called roast beef.
What does wee wee wee all the way home mean?
In the rhyme it could mean that the pig squealed all the way home. It could also mean that they ran home yelling wee, as if in happiness like a child on a swing. When added with the actions, it helps to add enjoyment when tickling a child's feet.
INTERESTING FACTS & QUESTIONS ANSWERED
Does This Little Piggy Have a Dark Meaning?
Some accounts think the nursery rhyme is about the slaughter of a pig. From the line where the pig goes to the market, they feel it refers to the pig being taken to be sold for slaughter at market. And when it stays home, this is because it is still too small to be sold.
The line about the little pig eating roast beef is about fattening the pig to prepare for slaughter. Also, the piggy that gets none is possibly a runt or weak pig that is pushed out and away by the other hungry pigs which does happen.
The final line when the pig is crying wee wee wee is said to be because it is frightened. This interpretation, while too hard to believe, might be credible. We can't tell.
There is however no reason to go into this interpretation of the rhyme because it is just that, an interpretation, and whether it is true or not the creators of the children's poem are not here to say.
Is This Little Piggy a Nonsense Rhyme?
If you ignore the hidden interpretation, the song becomes a nonsense rhyme. The actions don't make sense, making someone feel like lines are put together to make up a silly song where an adult can pinch the toes of a toddler and in the end make them laugh with tickles.
Imagine a pig standing on its two hind legs going off to the market or staying at home watching TV, perhaps? The pig has been humanized, which doesn't make much sense.
Good thing it's only a children's song!
Do Pigs Eat Roast Beef?
Yes! Pigs will eat roast beef if you offer it to them. They are omnivores, which means they can eat meat and plants. Pigs will eat almost anything they are offered and that is why their food is commonly referred to as slops – the families leftovers!
What is The Fingerplay or Toe Play for This Little Piggy?
The finger play for This Little Piggy is quite simple. It is also known as toe play since it involves moving the toes.
All you have to do is touch or gently pinch a child's toes as you sing each line.
Start with the big toe and finish with the pinky toe. For the last line, wee wee wee all the way home, you can tickle the toes or feet for a giggle from the child or even chase your fingers up their legs to their belly to tickle their tummy.
You can also get your child to do the actions to you as you sing!
Is This Little Piggy In the Public Domain?
This Little Piggy is a public-domain rhyme. That means that no one has the copyright to it and that if you want to use the song in your work, you can. Anything published or copyrighted before 1925 is considered public domain today.
(Disclaimer: This is a general–not a legally confirmed fact, and you need to do more research into the laws in your jurisdiction/country to ensure you may use this song)
The first published version of This Little Piggy was possibly in 1744 and others in years before 1925. That makes it a public-domain song.
But this does not apply to other people's versions of it—for example, if you made a CD of you singing This Little Piggy, your version is not public domain. Therefore, I cannot resell it without your permission.
That applies to YouTube videos of the song too. The people that recorded the YouTube videos own the right to that version.
How Do You Sing This Little Piggy In Sign Language?
It's possible to sing This Little Piggy in sign language. Here is a YouTube resource that'll teach you how.
LESSON PLANS AND ACTIVITIES INSPIRED BY THIS LITTLE PIGGY RHYME
The following is a selection of Lesson Plans based on the nursery rhyme This Little Piggy. You need to click on the images to go to the websites to learn more and download the resources.
SHEET MUSIC FOR THIS LITTLE PIGGY
What Is the Time Signature for the Nursery Rhyme This Little Piggy?
This Little Piggy is typically played with a time signature of 2/4.
How to Play This Little Piggy On an Instrument
You can play This Little Piggy nursery rhyme on an instrument with any of the below YouTube resources.