There are many versions of the ABC Phonics nursery rhyme. This one is commonly known as A for Apple, A for Ant or the phonics song with two words.
It is a fun song for kids that teaches about the letters of the alphabet. The song mentions each letter using objects, that begin with each letter, also sounding them out phonetically.
You don't always have to stick to the conventional words in the lyrics. Substitute the objects for each letter as you see fit to teach kids about multiple different things as long as they start with the letter and use the phonetic sound. (For example, you wouldn't say C for Cat and C for City as the C sounds different phonetically in both words!)
There are many versions of the ABC Phonics song, and you can see some of the others in our post the Ultimate List of Nursery Rhymes with Links to Lyrics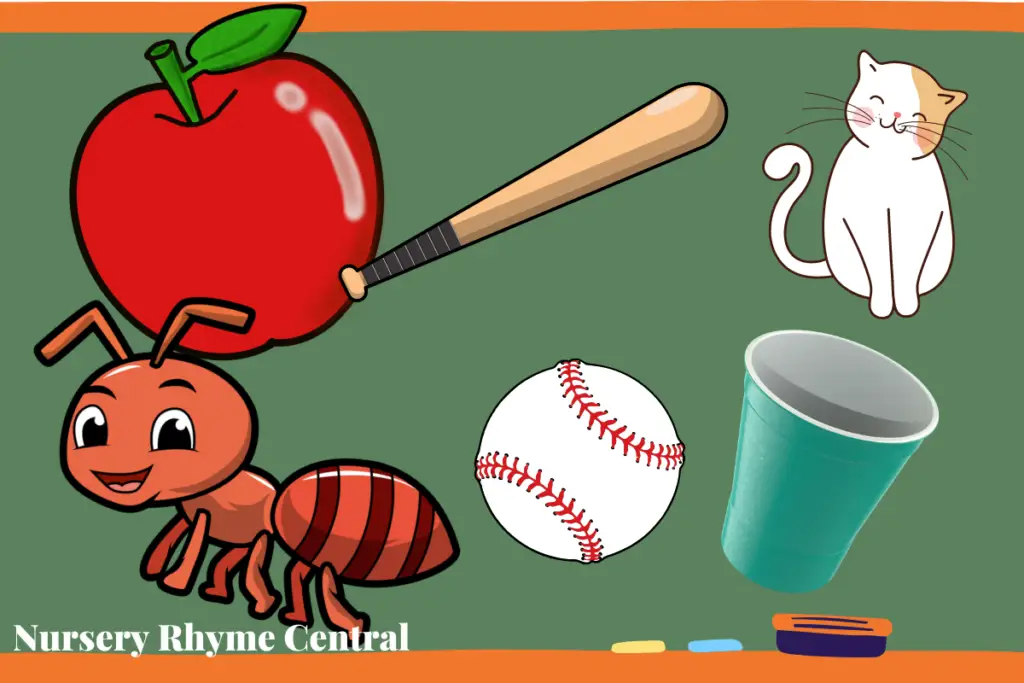 Lyrics for A for Apple, A for Ant (ABC Phonics Song)
There are many variations of the popular rhyme. However, the below are the most famous.
A for Apple, A for Ant
aaa… aaa…
B for Bat, B for Ball
bbb… bbb…
C for Cat, C for Cup
ccc… ccc…
D for Dog, D for Dots
ddd… ddd…
E for Egg and E for Elephant
eee… eee…
F for Frog, F for Fish
fff… fff…
G for Goat and G for Grass
ggg… ggg…
H for Hand, H for Hat
hhh… hhh…
I for Ink and I for Insect
iii… iii…
J for Juice, J for Jar
jjj… jjj…
K for King and K for Kite
kkk… kkk…
L for Lamb, L for Leaf
lll… lll…
M for Man and M for Monkey
mmm… mmm…
N for Neck, N for Nose
nnn… nnn…
O for Ocean, O for Oar
ooo… ooo…
P for Plant, P for Parrot
ppp… ppp…
Q for Queen and Q for Quail
qqq… qqq…
R for Rope, R for Rat
rrr… rrr…
S for Sun and S for SunFlower
sss… sss…
T for Tap, T for Tub
ttt… ttt…
U for Uncle, U for Umbrella
uuu… uuu…
V for Violin, V for Violet
vvv… vvv…
W for Well and W for Water
www… www…
X for Box, X for Fox
xxx… xxx…
Y for Yacht and Y for Yellow
yyy… yyy…
Z for Zoo, Z for Zebra
zzz… zzz…
Videos for A is for Apple (ABC Phonics Song)
DOWNLOAD YOUR FREE PRINTABLE HERE!